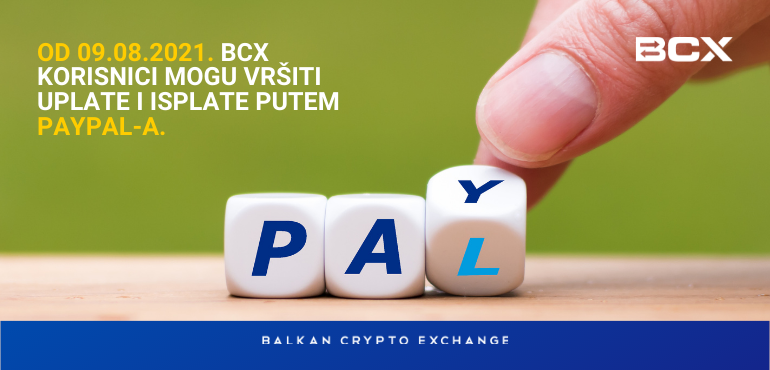 BCX allows payments and withdrawals via PayPal
Due to the great interest of BCX users, especially those who are outside the
borders of BiH and do not have an open bank account in BiH, BCX from 𝟬𝟵.𝟬𝟴.𝟮𝟬𝟮𝟭. enables payments and withdrawals via PayPal,
where users can make funds indirectly from their cards and withdraw them from them.
What exactly is PayPal?
PayPal is a system that allows payments and withdrawals exclusively via the Internet and was created as an alternative to the traditional method of payment, and currently has over 361 million active users worldwide. The PayPal account is most easily compared to the current or giro account of any other bank. To use PayPal at all, you need to have a valid e-mail address as well as a specific debit or credit card (VISA, MasterCard, Visa electron, American Express).
This type of service provides users with the ability to send money directly to their current account or credit card to anyone with a registered email address. PayPal users can send money worldwide with just one mouse click.
All of the above leads to big savings when it comes to fees and commissions charged by numerous other money transfer services.

With the introduction of PayPal, BCX has become the only cryptocurrency exchange in BiH and the region that in this way allows its customers easier and faster payment.
Your BCX team!
---