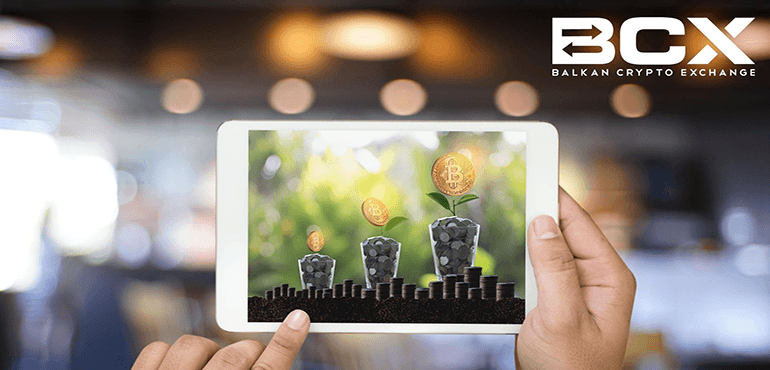 How does the decline of the real sector affect the cryptocurrency market?
And while the real sector around the world is suffering the consequences, the cryptocurrency market is growing again.
More and more people are deciding to redistribute assets, and one way is to invest in cryptocurrencies. The fact that the value of the most popular cryptocurrency Bitcoin has doubled since March shows that the crypto market has a positive growth.
Boris Majstorović, co-founder and director of BCX.ba, the first and only crypto exchange in BiH, spoke about the global and domestic crypto market.
What is the current situation in the global cryptocurrency market?
1) The current situation in the global digital property market is such that these days it has reached a level approximately as it was six months ago before the larger scale of the crisis with COVID-19 will begin. For example, Bitcoin is currently at some € 10,000, and in mid-March it had briefly fallen below € 4,000, meaning we have a growth of some 150% in the last 5 months. The current market capitalization of all digital assets - cryptocurrencies in the world is 369 billion dollars.
Why are more and more people turning to this market?
2) We have a current saturation and fear in the world for traditional investment instruments such as stocks and securities derivatives due to the already mentioned COVID-19 pandemic and the crisis it has caused. In our country, this is particularly pronounced, because we have very little material for investment, capital markets are not yet sufficiently developed, banks have low interest rates on deposits, there are no quality investment projects, so an increasing number of people in Bosnia and Herzegovina decide to invest in cryptocurrencies that promise, that have potential and that with their existence of 11 years have proven and shown to all skeptics that they are not a passing thing. BCX is the first and currently the only exchange office for digital assets or cryptocurrencies in Bosnia and Herzegovina. We, as a young company that was founded in May 2018, and actively started operating in January 2019, are witnessing a constant increase in demand for the purchase and sale of digital assets in our country. Especially pronounced is the huge increase in the last 5 months for the purchase of cryptocurrencies where we have an increase on that basis of as much as 300%.

What is the volume of trade in BiH?
3) We started working last year and in our first year of operation we had a turnover of 2,000,000 KM. Our expectations are that we will exceed 3,000,000 KM this year. We currently have 2,000 registered users. If we take into account that we are a relatively young start-up company that only started marketing two months ago and which is just building public confidence I think these are more than good indicators that there is a huge interest of the population in digital assets and cryptocurrencies in Bosnia and Herzegovina.
How are cryptocurrencies traded?
4) Our BCX.ba platform is built on proven, efficient and reliable technologies. It is above all safe and tailored to the end user. The registration itself is done online, and it may seem a bit more demanding for a printer, but we wanted to apply the maximum standards of law from the country and the world regarding the prevention of money laundering and terrorist financing.
After registration, the user accesses the account where he has at his disposal 7 free digital wallets to which you can deposit your cryptocurrencies and KM. After depositing, the user goes to the exchange office and quickly and easily converts the crypto to KM or KM to crypto. The BCX.ba platform is available 24 hours 7 days a week. Also, we have customer support available 24h. We strive to constantly improve and introduce new services and educate investors. I would like to expire and announce that by the end of the year we will grow from an exchange office into a real stock exchange where we would create our own market in Bosnia and Herzegovina. So, in addition to the exchange office, our customers will also have a stock exchange on which they can place their purchase and sale orders and thus create our supply and demand. I would also like to point out that one of our main goals is education, so since June we have created a brochure "CRYPTO TERMS FROM A TO Z" for those who do not know or know very little about the crypto world, which comes out every month with new terms from crypto of the world.
For those who know the crypto world better, we have created a kind of electronic newsletter called BCX Informer in which you can find the latest news from the crypto world for that month. You can find all this and get it for free on our website BCX.ba.
Apart from trading currencies themselves, what other application do cryptocurrencies have? Can they be used as commercial / traditional currencies?
5) Cryptocurrencies and digital assets have numerous applications in the world. They are just a by-product of something called the digital economy. Last year, Liechtenstein adopted one of the most comprehensive laws on blockchain technology, in which virtually all assets, ie. the right arising from the property can be tokenized starting from the lien, property right, right of use, license, etc. In the world, some digital assets have long been used as a means of payment. In our country, that is not possible yet, but we have a project planned for next year that will enable all residents of Bosnia and Herzegovina to pay for products and services in cryptocurrencies.
Source: Al Jazeera Business
---